5 Thanksgiving Centerpiece Ideas Using Fall Flowers
Thanksgiving tables are always bedecked with the most gorgeous and scrumptious food, so sometimes it's a little difficult to come up with a centerpiece that measures up to the decadence. Incorporating fall flowers into your centerpiece is a great way to create a rustic and seasonal look that you'll love showing off to your family and friends.
Here are five ideas for making an amazing tabletop Thanksgiving centerpiece using fall flowers:
A Rustic Box
For a centerpiece that nobody will have seen before, repurpose a vintage-looking wooden box or a rustic window planter as table decor. Fill the box with short vases of varying flowers, surrounded by pine cones and acorns. For a country-looking fall arrangement, try using bright aster and helenium interspersed with sprigs of goldenrod and colorful leaves. If you don't have a box, making one is easy, or you can use a pretty basket instead!
A Different Container
Your flowers don't have to be arranged in a vase – put them in a pretty pitcher or a ceramic serving bowl for a centerpiece that fits in perfectly with the beautiful food on the table. Pick a pitcher or bowl in fall colors, and fill it with brightly colored mums, roses and sprays of Russian sage. Teleflora's Blaze of Beauty Bouquet and Tuscan Autumn Centerpiece both come with hand-glazed ceramic containers that you can reuse to serve food or drinks, and are full of gorgeous fall arrangements. Use one on your table or send one as a gift!
Thanksgiving Centerpieces with reusable ceramic servers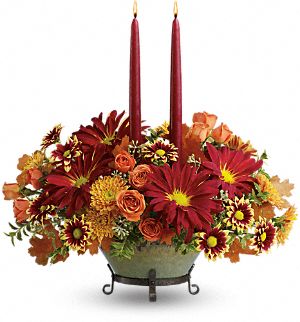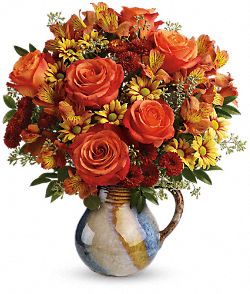 Tuscan Autumn Centerpiece $62.95 & Blaze of Beauty Bouquet $54.95
Pretty Pumpkins
Pumpkins and other gourds are the perfect autumn decorations because they're both pretty and seasonal. You can use miniature pumpkins in your centerpieces in many ways – scatter them across the table or even hollow one out and use it as a vase. A large hollow pumpkin full of sunflowers would make a show-stopping centerpiece, and guests will love the creativity. Teleflora's Country Pumpkin decoration comes with gerberas, mums and daisies, among other colorful accents, filling a charming pumpkin container that you can easily reuse in the future.
A Flowery Cornucopia
Traditional cornucopias are full of fruits, vegetables and gourds to signify prosperity, but the inclusion of fall flowers will make any cornucopia pop that much more. Buy or make a cornucopia and fill it with various flowers and plants, like stalks of wheat, perennial sunflowers, crocuses and more, to make it look like you've just gone flower picking in the meadow. Teleflora's Classic Cornucopia is a ready-made centerpiece that uses sunflowers, pink roses and other flowers in a beautiful arrangement. Buy it for your Thanksgiving table or even to keep on a side table or wide windowsill for season-long decor.
A Kid-Friendly Centerpiece
For a kid-friendly centerpiece, incorporate a cute character into your flower arrangement. Make a turkey using a large pinecone by fanning colorful leaves in the shape of tail feathers around the wider end of the cone and attaching them with glue. Then fashion a head and neck out of construction paper, glue them on the other side of the cone, and place the turkey in a bowl of pinecones, acorns and mums. Or buy Teleflora's Smiling Scarecrow Bouquet, which comes with a cute scarecrow figurine sticking out of a basket of sunflowers, roses and alstroemeria.
AUTHOR:
This article is brought to you by Michelle Farrell and
published by Teleflora.