Thanksgiving is a great time to get together with friends and family. This year, it's your turn to host Thanksgiving dinner at your house, and you want to impress all of your guests. One of the best ways you can add a little flair to your dinner table's setup is with your very own cornucopia.
The idea of the cornucopia derives from the the Latin term for "horn of plenty." It serves as a symbol of prosperity, which is more than appropriate for Thanksgiving. Creating your own centerpiece can be a fun activity for you and your family and will look great on your lovely Thanksgiving table. Follow these simple guidelines to make a beautiful floral arrangement for Turkey Day:
Choose the Container
The first choice you and your family will have to make is what you want to use as the holder for your decoration. If you're looking for something a little more contemporary, go with a basket to hold the contents of your cornucopia. A basic, wicker one is a good place to start your search. Want to go with something a little more traditional? Using a horn provides a classic look that dates back to the earliest days of these decorations. Whichever option you choose, it's important to coordinate its size with the number of items you're planning to put inside. Plan out what you are going to place inside before you decide on a container.
What Goes Inside?
This is where you and your family get to have the most fun. Choose what you want to fill your basket or horn with. Start with fresh flowers that really show off rich fall colors. Check out Teleflora's Classic Cornucopia or Teleflora's Fresh Picked Gift Basket for starters. Both feature seasonal colors like red, orange and yellow that will make for the best Thanksgiving centerpiece. Do you want to make a cornucopia that incorporates fall themes even more? Go to your local arts and crafts store (or even take a stroll outside) to find fall foliage to throw in your cornucopia. Pine cones and leaves are outstanding places to begin. Explore the options for artificial gourds, fruits and vegetables at your local art supply store, too.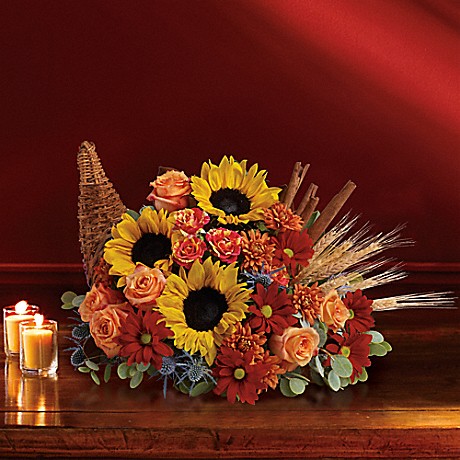 Arrange the Pieces Appropriately
Planning your arrangement will go a long way in making sure you can fit all all of the various items inside the cornucopia. Start with your bigger items. Take your gourds, fruits and vegetables and place them near the back of the horn or spread them out evenly throughout the basket. These will serve as your base for the rest of the arrangement. Next, take the flowers, leaves, pine cones and any other foliage you've picked out and spread them out over your larger items. Try to do so evenly so that you don't have one section of all big items or one section of only foliage. The end product will be the perfect centerpiece at your holiday dinner table. All the fall colors spilling out of the cornucopia will surely get your guests in the spirit of the holidays.
Summary
Article Name
Description
Creating your own centerpiece can be a fun activity for you and your family and will look great on your lovely Thanksgiving table. Follow these easy steps.
Author