Easy Homemade Halloween Decorations for Your Porch
Halloween is certainly one of the most fun holidays to decorate for, but it doesn't mean you have to create the scariest front porch on the block. Instead, you might be wondering how to make Halloween decorations and if there are easy projects you and your kids can complete.
The good news is that there are plenty of homemade Halloween decoration options you can try that range from classic and fall-inspired that incorporate leaves, flowers and rich autumn tones to holiday classics like jack-o'-lanterns and ghosts. Whichever direction you choose, you and your children are sure to have a blast putting together stunning decorations to make your porch plenty festive.
Homemade Halloween Porch Decoration Ideas
Flower-Filled Lanterns:
For a simple and elegant porch decoration, you can put pinecones, tiny pumpkins and other gourds in various fall colors in an old fashioned lantern to set out on your porch. This easy project is sure to create a lovely finished product that will bring a touch of the season to you front porch.
Instead of carving all of your pumpkins into jack-o'-lanterns, you can turn them into festive and unique flower pots. You'll want to remove the top and clean out the inside (be sure to save the seeds for a snack!), then you'll be ready for planting. Mums are an excellent fall flower to use in your pumpkin pots, and Better Homes and Gardens suggest mixing lovely orange, yellow and white mums, but you can also opt for more vibrant shades of pinks, purples and reds to make the porch pop. What's more, garden mums are great container flowers so they'll stay nicely in your pumpkin planters while adding joy and whimsy to your front door decor.
Shop for a Decorative Fall bouquets!


Teleflora's Country Pumpkin Bouquet $52.95
Halloween Wreath:
If your front door is always decked in a wreath come the winter holidays, you might be interested in a Halloween-inspired option. Good Housekeeping suggests spray painting a 16-inch craft store wreath black. While you wait for it to dry, you and the kids can go on a scavenger hunt for small twigs from your backyard. Use a glue gun to stick the twigs to the wreath. Then feel free to add other holiday-related items, and don't be afraid to get creative. You can glue on a small pumpkin, plastic spiders or leaves and be sure to string a cotton spider web across the finished product.
20% OFF Teleflora.com!

Luminaries:
If you're looking for an alternative to pumpkin carving this year, consider making jack-o'-luminaries, as suggested by Good Housekeeping. You can purchase small white gift bags, and then you and the little ones can draw or trace stencils of pumpkins, leaves, an old house, trick-or-treaters or bats. Start the drawing in pencil to correct any mistakes then color the whole thing in with a black marker. Once the bags are completed, you can set them on the porch with a candle in a small votive holder or an electronic candle (safety first!) inside to light the path.
Seasonal Doormat:
Let guests know that you're excited about the Halloween season as they step onto your spruced up DIY doormat. You can take an old doormat or purchase a new blank one for this project, then you and the kids can decide what it should say. You might consider include Boo!, Happy Halloween or Trick or Treat. Once you know what you want to write, use letter stencils and fill them in with outdoor fabric paint. Once it's ready, you can surround your new doormat with the other projects you've finished for a total homemade Halloween-inspired front porch.
Shop for a Fall Flowers & Arrangements!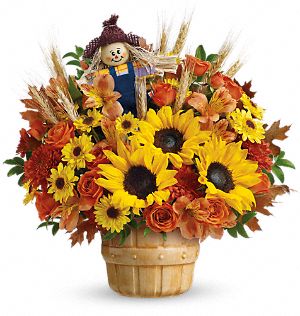 Teleflora's Smiling Scarecrow Bouquet $49.95
AUTHOR:
This article is brought to you by Michelle Farrell and
published by Teleflora.