Flowers fit for a prince: 5 blue options for a newborn boy
After the
royal birth of Prince George, people around the world are looking for ways to celebrate and commemorate the joyous occasion. Moreover, some might have even experienced a special birth in their own lives. Choosing flowers for a baby boy can be challenging, however. While traditionally, pink flowers are gifted to a girl and blue flowers are given to boys, it can be difficult to find botanicals in a blue hue. Still, there are a few viable options for these momentous circumstances. Opt for any of these flowers to say congratulations to a loved one on their new son or just to honor the birth of Britain's latest prince.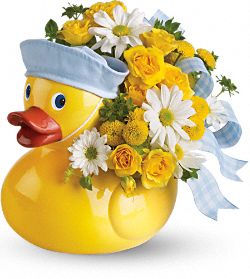 Varietes of Blue Flowers:
Meconopsis
These poppies comes mainly from the Himalayas of China and Tibet, where temperatures are cool and monsoons are plenty. The plant still demands sufficient moisture and a moderate temperature. The
large blue petals are stunning and well worth the effort to keep the flowers alive.
Delphinium
Some of the
truest blue blossoms in existence, the long stemmed delphinium flowers, are associated with levity and light-heartedness, which make them appropriate for rejoicing in the birth of a boy.
Blue Hydrangea
The voluptuous hydrangea can be incredibly stunning and dries exceptionally well. These florals can vary in color from white to deep purple, depending on the acidity of the soil they grow in. While there has been much debate about the meaning of these flowers, they can convey heartfelt feelings as a gift, making them a perfect choice for a congratulatory message.
Larger clusters are also highly fragrant, offering a pleasant scent in whatever room they are placed in.
Aster
These daisy-like perennials have a starry shaped flower that is especially striking. They are thought to
bring good luck and protect against evil, and are also hardy and long-lasting, making them an ideal gift. The plant's height can range from eight inches to as high as eight feet, depending on the type.
Clematis
These vibrant, climbing flowers are often called
"Queen of the Vines," and bloom in a range of colors. True
blue varieties include Crystal Fountain, Durandii, Arabella and the much sought-after Perle D'Azur. There's even a
variety named after Prince Charles, with mauve four inch flowers and twisted petals.
Whether you are ecstatic over the birth of Prince George, have a newborn boy in your life, or are just looking for a calming centerpiece that emanates peace and tranquility, these blue blooms are all fitting flowers for any occasion.
This article is brought to you by Michelle Farrell and
published by Teleflora.