Get festive this Christmas with flowers
Now that Thanksgiving has passed, you're no doubt already looking forward to one of the most joyful times of year: Christmas. Of course, you may already be considering buying a tree, or even busting out your decorations from last year to get your home looking more festive. One of the best and most beautiful ways to get in the spirit is by adorning your home with some fresh Christmas flowers. Need some inspiration?
Here are a few ideas for you to deck the halls:
A sweet candy cane display
Nothing says Christmas quite like a candy cane. You can do a lot more with these confections than hang them on your Christmas tree, too. Look for a merry arrangement of red and white blooms with white pine and other greenery like Douglas fir as well as candy canes strategically placed for a playful surprise. Red satin ribbon offers an attractive touch, while white painted pinecones are the perfect frosty addition. Set in a sleek clear glass vase, this is one display that can make any home more cheerful.
Buy a By Golly It's Jolly Bouquet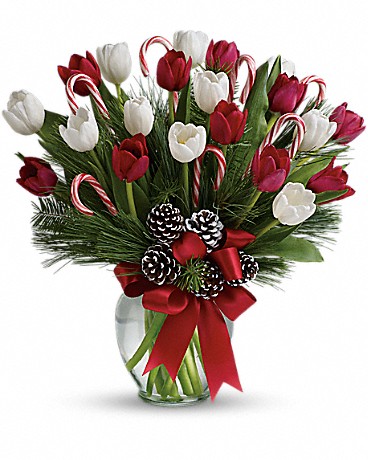 A tiny Christmas tree
Whether or not you're thinking about bringing home a big tree for your living room, you can still enjoy a smaller one in any part of your home. A mini Christmas tree made with English boxwood stems can look just like the real thing, especially when it's adorned with all the typical trimmings like bows and ball ornaments. Place it in your foyer, on your mantle above the fireplace, or even on your dining table as a centerpiece. The possibilities for merriment with this floral arrangement are endless.
Send a mini Christmas tree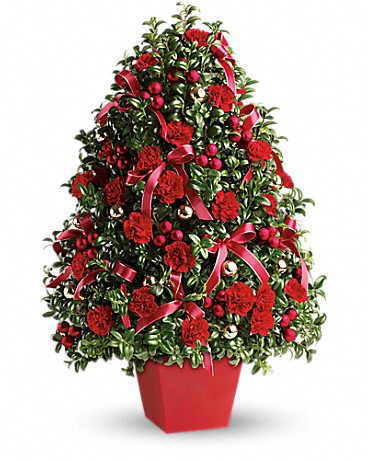 Spice and everything nice
The scents of the holidays are some of the most comforting, nostalgic aromas. So why not incorporate them into your holiday decor? Consider a floral arrangement that includes festive red flowers as well as pinecones, berries and seasonal spices like cinnamon sticks. The combination of the softly sweet-smelling blossoms and the zesty cinnamon is sure to please your guests at any holiday gatherings you may have.
Shop for Berries & Spice gift basket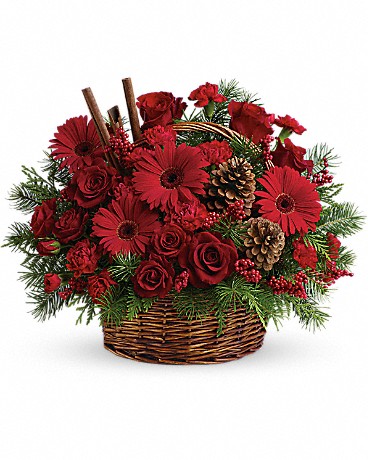 A white Christmas
Are you dreaming of a snowy scene this holiday? Whether or not your wishes come true, you might want to bust out a white plant to make your home look more festive. While the poinsettia is no doubt one of the most popular seasonal plants, you don't necessarily have to go for a red one. A gift of a white poinsettia is just as jolly, and with shimmering ribbon and gold ornaments, offers a fresh spin that's supremely elegant. Who knows? This white plant may just become your new holiday tradition.
Send a white poinsettia plant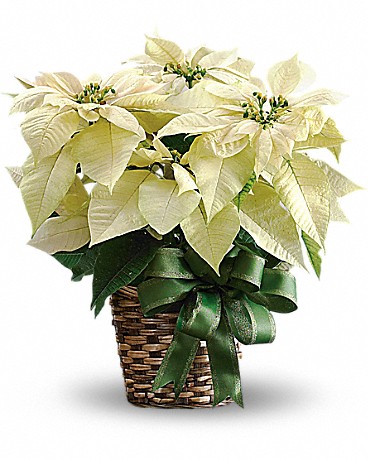 This article is brought to you by Michelle Farrell and
published by Teleflora.