Remember Grandma & Grandpa with Flowers on National Grandparents Day 9/7/14
National Grandparents Day will soon be here, brunch times will be booked solid, and kids will be cheering for a chance to spend some quality time with their older relatives. Parents, to help your children show how much they are truly thankful for their grandparents, help them send flowers for the September holiday.
You always want to send your grandparents a gift that is thoughtful or somehow reminds one of the gift giver. Have your children think about what characteristics describe themselves best, such as their favorite color, personality traits or favorite activities. All of these can be found in plants. Each bouquet and plant has different traits that can mirror a personality. So send a bouquet that will remind the grandparents of their grandchildren each time they water it.
Identifying the flower personality
Parents, if your child happens to be bright, cheery and full of beaming happiness, choose a bouquet that incorporates sunflowers. A great option is the Teleflora Grand Sunshine Bouquet. This arrangement is full of color that just calls for attention. This stunning bouquet is sure to make grandparents sit up and think of their affectionate little grandchild.
Shop for a Grandparents Day bouquet!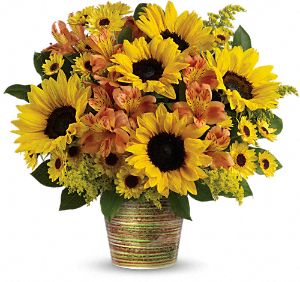 Teleflora's Grand Sunshine Bouquet $49.95
If your child happens to exude peace, harmony and walks with a graceful flow in each step, consider sending the Teleflora Zen Artistry bouquet. This bouquet is not only relaxing to look at, but it requires little maintenance. This gift should be from a grandchild who wants fully to take their grandparent's happiness into his or her flower choice. Best of all, grandma is sure to adore the beautiful orchids.
For the grandchild who inherited a love of cars and trucks from his classic auto collecting grandfather, send Teleflora's '48 Ford Pickup bouquet. This little blue truck looks a near replica, and it is cool enough to please any grandpa. Not only do the flowers look beautiful in the trunk, but the truck can be reused for a multitude of things after the bouquet has gone.
The little girls who prefer to wear matching outfits of red patent shoes, red jumpers and red bow clips are sure to love the Teleflora Lovely Ladybug bouquet. Your daughter will want to send this bouquet to her grandparent to show how cleverly she coordinated her flowers with the vase. For a personal touch, have your little girl write a small poem about ladybugs to send in the card.
Be sure that all of the children weigh in on what the card has to say. This day is all about the grandkids' love for their grandparents, so let their voices be heard.
AUTHOR:
This article is brought to you by Michelle Farrell and
published by Teleflora.