Closing on Your First Home? Don't Forget to Thank the Realtor!
Buying a home can be filled with excitement and stress, which is why it's helpful to have a real estate agent who knows how to get you everything your are looking for within your price range. If you have just closed on your first home, the experience is even more joyous. Be sure to convey your gratitude to your realtor by sending a thank-you gift. Here are a few examples of gifts for realtors:
Flowers are the time-honored way people share their sentiments. You can send your real estate agent a great big "Thanks!" with the right arrangement. Do you know this person's favorite color or flower type? If so, be sure to fill the bouquet with blooms that fit those parameters. However, you may not know this information, and in this case feel free to choose a mix of bright and cheery blooms.
Smile – Literally send your realtor a smile with flowers packed inside a happy face vase. This yellow container sends nothing but positive vibes. Fill the vase with happy flowers like white and yellow daisies and yellow roses. He or she will be thrilled to receive the gift.
Be Happy bouquet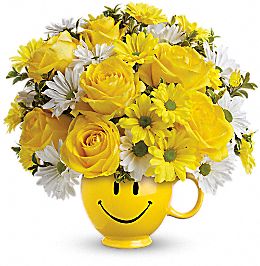 Polka Dots – Polka dots are a happy pattern, don't you think? Select a square vase and wrap a wide polka dot ribbon around it to add a bit of extra color and style. Fill the vase with a number of flowers, like pink carnations, white daisies and yellow tulips.
Send a Gift Card
Send your realtor a gift card along with the flowers. Don't pick a generic Visa or MasterCard version – instead, buy one from a nice restaurant You will be giving you realtor the gift of a good meal while saying thanks. Other great gift card ideas are for spas or weekend getaways.
Leave a Review
Everyone uses social media these days, including your real estate agent. Be sure to leave him or her a positive review that highlights their hard work. For example, you can head to a website like Yelp and give your agent a five-star review. Or you can head to Facebook and leave a comment on their page.
Pick one of these ideas or choose all three! Whatever you do, your real estate agent is sure to be pleased with your thoughtfulness.
This article is brought to you by Michelle Farrell and
published by Teleflora.