Fall is just around the corner, and while you may typically set your sights on mums this month, you'll be surprised to know there are several other types of flowers that are in season.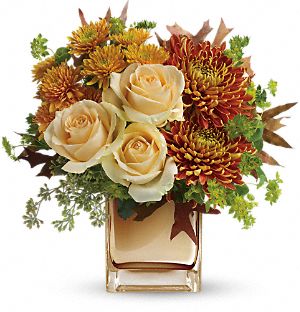 Teleflora's Autumn Romance Bouquet $49.95

Whether you're planning your wedding, picking out a beautiful bouquet to give to a loved one or just want an eye-catching bloom to add to your mantle, there's plenty available in autumn. There are a kaleidoscope of colors in the fall, and if you're planning a wedding then you'll definitely want to incorporate a pop of foliage into your theme. September, October and November bring bright flowers and there are several different kinds of combinations you can use to create your wedding bouquet.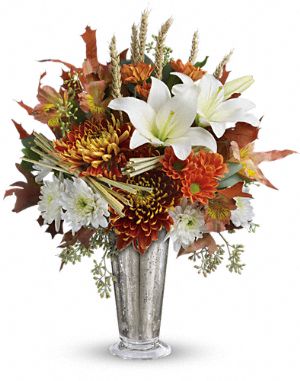 Teleflora's Harvest Splendor Bouquet $49.95
Flowers blooming in September
Check out this list of flowers that are blooming in September: Aster: These flowers are available in white and pink during the fall months. The beautiful daisy-like flowers are a major attraction for butterflies as they supply a great source of nectar during the creatures' peak migration season. Hydrangeas: The best colors of hydrangeas that bloom in September include red, burgundy, yellow and orange. The large leaves are shaped like those you'd find on an oak tree and the brilliant autumn colors are great for getting in the fall spirit. Daisies: Also known as gerbera, daisies are most known for their snow-white color. However, they also come in several other colors and varieties. Single and double petal daisies are a great combination for a bouquet. Kangaroo Paw: This unique flower is native to Australia and is brightly-colored. It boasts vivid colors and velvety flowers. These blooms produce no fragrance but do attract birds because of their pollen deposits. Slipper orchid: To really set the mood for fall, choose the slipper orchid. The petals come in a brownish red, yellow and green. Roses: There's never a bad time to give someone roses. Whether you're using it in a bouquet or using them as a centerpiece, roses come in a variety of colors that range from pink to chocolate. Go with fall-like colors to accommodate the season such as burnt orange, chocolate brown, apricot, deep yellow, red-orange or coral-orange. Sunflower: The picturesque autumn bloom is the sunflower. The double yellow petals are the perfect color to help you transition from summer to fall. For more flower inspiration, check out these other fall blooms:
Stock
Zinnia
Daffodil
Iris
Lillium stargazer
Orchid Cymbidium
Snap Dragon