You may think bouquets are more appropriate for Mother's Day than Father's Day – and you'd be right. Floral gifts are more common by far when celebrating the mothers in our life, but some dads love the idea of a plant- or backyard-related present. This year for Father's Day, think beyond floral bouquets and plants and get a little creative to find gifts your outdoorsy dad will love. Here are a few ideas to help you get started:


An African Water Lily
Does your dad love taking care of an ornamental pond in your parents' backyard? If so, an African water lily is the perfect Father's Day gift. Water lilies bloom with gorgeous flowers during the summer, but they also provide some much-needed shade for ponds in the form of – you guessed it – lily pads. Ponds need shade to create a sustainable ecosystem, so African water lilies are both practical and thoughtful.
A Venus Flytrap
Venus flytraps are some of the most popular carnivorous plants, and it's easy to see why. They eat insects, look really cool and are very easy to grow, both outdoors and indoors. Plus, they're very interesting to observe, which means if your dad is a plant lover, he'll definitely enjoy growing one.
A Zen Desk Topper
There are a number of plants that are said to help their owners in various ways, from helping him or her relax to even bringing about good fortune. These zen-like plants are a great gift for Father's Day, especially if your dad is looking for a way to add some life to his desk at home or in the office. Teleflora's Money Tree will bring your father prosperity and good fortune, and our Good Luck Bamboo may even bring him some extra luck. Plus, both are very easy to take care of.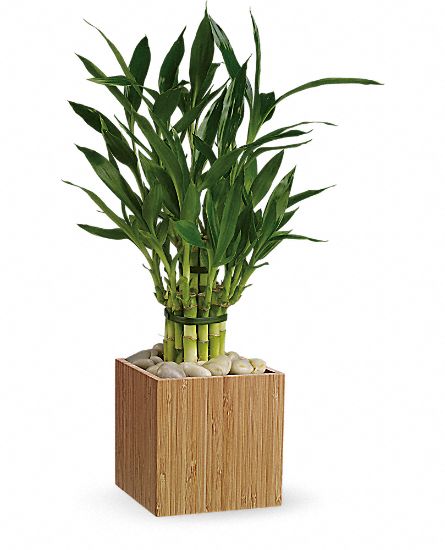 A Low-Maintenance Succulent
Succulents like jade, aloe or different types of cacti are another good way to say "Happy Father's Day" to your dad. Typically found in hot and dry climates like deserts, these plants can last for months without being watered, so they're a good gift for a dad who's looking for something low maintenance. Find a cactus in a funky pot for your dad to keep on a sunny windowsill in his office.
An Arrangement in a Cool Keepsake
Many guys love flowers and gardening, so if that sounds like your father, you don't necessarily need to avoid floral arrangements altogether. Look for a bouquet in a cool keepsake container, like Teleflora's '65 Ford Mustang Bouquet or Weber Hot Off The Grill arrangement. Your dad will love the flowers, and he'll be able to use the awesome keepsakes for years.
A Practical Backyard Gift
Is your dad into the outdoors but not necessarily plants or flowers? If so, go for a gift that's a bit more useful for him. Get him a new grill cover, a pressure washer he can use on the house or deck or even a hammock he can relax in over the summer.