If you're like the many around the nation who feel like Mother's Day just happened, you likely haven't put much thought into what to get dear old dad for his big day on June 16. Even though there is a bit more than a week to plan special surprises for the first man in your life, there are a few gift ideas that are sure to impress. Here are possible presents that are sure to have dad floored:
Take him out to the ball game
Though all dads are different, one thing most share a common love for is sports. Seeing as mid-June is typically a great time to head outdoors, it might be a nice gesture to pick up tickets to see your city's baseball team in action. Whether the game is on Father's Day or just near the holiday won't matter – Dad is going to be psyched to spend time at such a fun event with his whole family.
Want to make the gesture even more special? Pitch in with your siblings to get dad a new jersey, hat or other team gear to ensure he's ready to go when game time comes around.
Plan a trip
Nothing says family bonding quite like a road trip, so this year, consider making a trek with dad to a specific landmark. If you live on the East Coast and your dad is a huge history buff, it might be a heartfelt idea to plan a trip to historic Gettysburg in Pennsylvania to travel back in time.
Planning such a special trip like this is sure to not only impress your father, but make him feel like the day or weekend is really all about him, and let's face it, he deserves it.
Host a barbeque
When it comes to surprises, inviting dad over for a barbeque in his honor is likely to be high on his list of thrills. Events like this help bring families together to enjoy one another's company while eating delicious food. If you're ready to undertake the challenge of a backyard bash, make sure to pick up dad's favorite grilling foods.
Whether it be steak, fish, or more traditional fare like hot dogs and hamburgers, nothing makes a barbecue quite like the food. Picking up a special bouquet of Father's Day flowers can also instantly help turn an ordinary party into a truly special occasion.
Float Dad's boat with bright blooms
delivered in a blue keepsake sailboat,
it's the perfect way to say Happy Father's Day!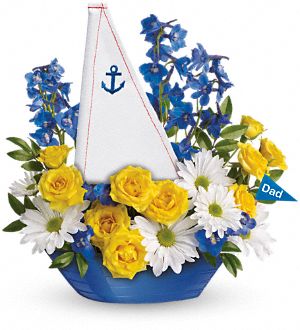 Teleflora's Captain Carefree Bouquet
This article is brought to you by Michelle Farrell and
published by Teleflora.