Top gifts for a holiday hostess
There's no doubt that you're already looking forward to a few holiday parties this season. Between catching up with old friends, enjoying delicious seasonal foods and getting in the holiday spirit with some festive music, these bashes offer up some of the best memories you'll make at this time of year. There's a lot of work that goes into throwing a fun soirée, though. So while you're attending these events, it's a nice idea to bring a special gift for your hostess to show your appreciation.
Picking out the perfect present for a party-thrower isn't always easy, though. Of course, you want the gift to be personal, and it should also have some holiday flair. That's why a floral bouquet is an ideal option. It's beautiful, and can instantly boost anyone's mood. Before heading off to a seasonal bash, consider one of these gift ideas to give your hostess – and all the party guests – some holiday cheer:
For the culinary queen
If your hostess someone who always seems to be baking? Then you might want to give her something that can hold both breathtaking blossoms and also all of her confections. A really creative gift idea is a festive bouquet in vase that doubles as a cookie jar. Look for a jar that's hand-painted with some fun seasonal flair, like a snowman or a reindeer. Then make sure it's filled with bright red carnations, white chrysanthemums and white pin, and greenery, like noble fir. Add in green ornament balls for an elegant touch. Once the flowers have wilted, your hostess can use the jar to keep all of her treats fresh.
Teleflora's Snowman Cookie Jar Christmas Bouquet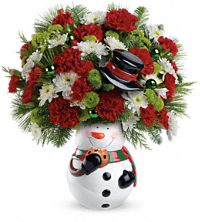 For the traditionalist
Some people just have a penchant for the classics. If your hostess is someone who values traditions, go for a tried and true poinsettia, the signature plant of the season. The lush crimson leaves are look even more jolly popping out of a woven natural basket with plush velvet ribbon. A poinsettia is also a long-lasting plant, which means that your recipient will be able to enjoy its beauty for a while after the party is over.
Shop for a poinsettia plants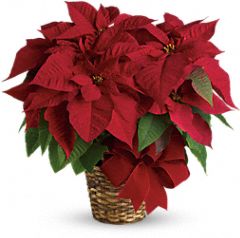 For someone sweet
A hostess who is especially sweet deserves a sugary present. Consider a fun Christmas gift basket with a flower arrangement that includes red and white peppermint carnations with other elements of nature, like white statice, frosted pinecones and vibrant holly berries. Most importantly, make sure a few edible candy canes are stuck into the display. That way, your hostess gets a treat with her stunning bouquet.
Candy Cane Christmas Gift Basket delivered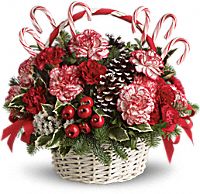 For the eccentric
Who says you have to go with a traditional bouquet? If your hostess has more of an offbeat style, then look no further than a Christmas cactus. The best part is that not only are these plants eye-catching and unusual, but they can also last for a long time. In fact, you'll likely your present in her home at next year's holiday party, and perhaps even the year after that. These low-maintenance plants are a great gift idea for someone who's super busy, too, because they won't have to worry about giving them a lot of attention. In a terracotta pot with an sophisticated satin ribbon, the Christmas cactus is as chic as it is kooky.
Send a Christmas Cactus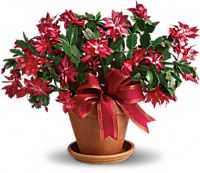 For someone cuddly
If your hostess is a warm and fuzzy type, then you may want to think about a vase that's just as cute and cozy as she is. A hand-painted polar bear vase isn't just adorable, it's also seasonally appropriate. Fill it with an awe-inspiring array of red carnations, flat cedar, red berries, variegated holly and white cushion chrysanthemums. Don't forget the final touch: sparkling silver ornaments for just a hint of glamorous glimmer.
Teleflora's Cuddle Bears Christmas Bouquet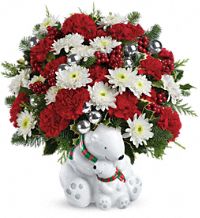 This article is brought to you by Michelle Farrell and
published by Teleflora.